Since most tours historically (I like that word) have been one or two people at a time, we typically take the visitors vehicle if they have one, or we have a very comfortable GMC Acadia that we charge $.50 cents per mile to use.

We have had much success with larger groups (3 or more) by having the group rent a large SUV such as a Suburban.

If a tour does not encounter an eating establishment, then we recommend providing some sort of snack of your choosing and bottled water is usually on board any excursion of any length.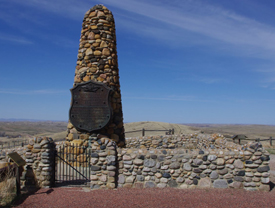 Fetterman Battlefield Monument